Question 1– I sometimes see rose bunches as low as $5-6 a dozen. How can that be?
Art's Answer: This is a great question and one I would question too if I was not in the business. What you may not know is that our perishable product is NOT DATE STAMPED or controlled by any governing agency. We basically have to take the brokers' word for it when they say that flowers are fresh. The brokers know what really is the newest and the oldest box though. I am sure you can understand that the broker will always give the freshest box to their best customer. The cost will be more since the roses are guaranteed.  Next freshest box will be given at a lower price and so on.  When the flowers are at their final stages, they are auctioned off just get them out of the cooler. In many cases, these are the roses you see on street corners, roadsides, or anywhere but a reputable retail florist. Every once in a while, you may get a good bunch and when you do, you feel like you have struck gold. Just beware because this experience is rare. We have no reason to want to gouge anyone for roses or flowers. We want to sell for them as low as possible.  HOWEVER, I would never risk our brand for a quick sale.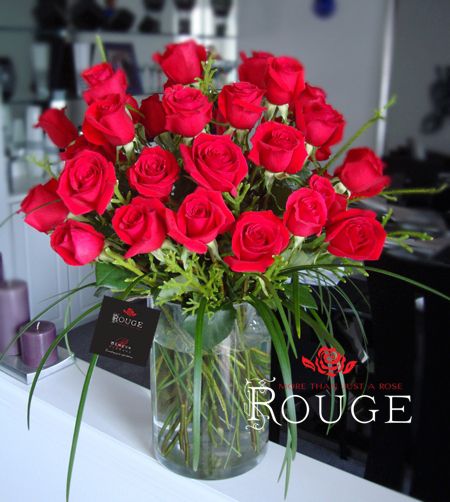 When flowers are delivered from Beneva, everyone expects the very finest. They expect to see what no one else has. When it comes to our Black Label Rouge, (no one else has this on the west coast of FL) customers understand the high expectations. It will open quick but last long. It opens to its natural beauty and remains like this for your enjoyment for days and sometimes even weeks. You just need to add water every day.  I will promise that you will never find a more outstanding red rose than the Beneva Black Label Rouge. It is the largest and finest rose in the country. When you send roses for a special occasion or an anniversary, isn't this what you expect? We do.
Question 2– The Farmer's Market seems to have nice flowers at affordable prices, but will they last?
Art's Answer: Again, no flowers are dated. We spend so much time and effort caring for flowers by using the proper handling and maintaining the proper temperature for maximum development cycles.  Farmer's Market conditions are very poor for flowers. We would never leave flowers at someone's door in the Florida heat and especially not in buckets for sale all morning in the heat. It is just not proper care and handling. It is a fact that this reduces the livelihood of your product.
Question 3- Whole Foods and Trader Joe's seem to have nice bunch buys and a large assortment of flowers at affordable prices as well.  How can they sell them for so cheap?
Art's Answer: They do. And this is why we started to offer grower direct bunches. The markets are opening up now and really anyone can buy flowers. At Beneva, we must buy better and offer higher grades of products to our customers.  In many cases, it is a break-even for us, like it is for them. They want you to purchase other products, we want you to experience our quality and value and we want to give you our Rewards card. We want  to earn your trust!
I hope you can understand why we offer this special $99 flowers for a year program and want all of our customers to take advantage of it.  It is a summer special and we want you to enjoy our flowers at a price you can afford over the course of a year.