Want to get something extra special for that certain someone this holiday season but don't know what to get? It's a tough choice, with so many products out there how does anyone make up their mind? The thought and gesture of giving always trumps what the gift is, but gifts that hold a tradition and history are always popular. For example, Murano Glass!
Murano Glass is a famous product of the Venetian island, Murano. Located off the shore of Venice Italy, Murano has been a commercial port as far back as the 7th century. By the 10th century, the city had become well known for its glassmakers, who created unique and beautiful glass.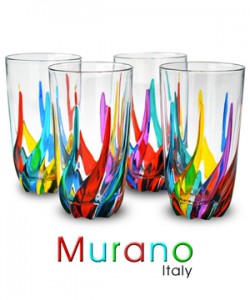 In the late 13th century, glassmakers were ordered by the Venetian government to move many of their studios to the Island of Murano. It is believed that this was done out of fear of the high temperature firing done by glassmakers, a danger in the largely wooden city of Venice. The glassmaking community of Murano became highly important to Italian trade, and prized for its beauty. Our selection includes beautiful vases and glassware that make perfect gifts because they look beautiful on their own and even better with a festive arrangement. Click here to see it all!